🙏 How to End Your Week Powerfully
…𝘴𝘰 𝘺𝘰𝘶 𝘤𝘢𝘯 𝘢𝘤𝘵𝘶𝘢𝘭𝘭𝘺 𝘳𝘦𝘭𝘢𝘹 𝘢𝘯𝘥 𝘳𝘦𝘤𝘩𝘢𝘳𝘨𝘦 𝘵𝘩𝘪𝘴 𝘸𝘦𝘦𝘬𝘦𝘯𝘥…
In the hustle of our modern life, days blur into nights, weeks into months. We can feel adrift, uncertain if our actions align with our deeper purpose or if we're just caught in a relentless current list of to-dos.
This lack of reflection creates an internal void, a feeling of moving without truly progressing. And with each passing week, the weight of unanswered questions, unchecked boxes, and unmet goals grows heavier.
The antidote? A purposeful pause. A moment of introspection at the week's end to sift through our actions, realign with our purpose, and step into the next week with clarity, intention, and gratitude.
How to Analyze Your Week:
𝟭. 𝗖𝗲𝗹𝗲𝗯𝗿𝗮𝘁𝗲 𝗦𝘂𝗰𝗰𝗲𝘀𝘀𝗲𝘀:
👉 Begin with positivity. List out 3 things that went well this week.
👉 Celebrate your accomplishments, no matter how small.
𝟮. 𝗖𝗼𝗻𝘀𝘁𝗿𝘂𝗰𝘁𝗶𝘃𝗲 𝗖𝗿𝗶𝘁𝗶𝗾𝘂𝗲:
👉 Ask yourself: What could I have done better?
👉 Identify 2-3 areas of improvement without dwelling on them. Recognize them as learning opportunities.
𝟯. 𝗣𝗿𝗮𝗰𝘁𝗶𝗰𝗲 𝗚𝗿𝗮𝘁𝗶𝘁𝘂𝗱𝗲:
👉 Close your eyes. Think of 3 things or people you're genuinely thankful for. Feel the warmth of gratitude radiate within you.
𝟰. 𝗦𝗲𝘁 𝗜𝗻𝘁𝗲𝗻𝘁𝗶𝗼𝗻𝘀:
👉 Write down 3 goals for the upcoming week.
👉 Break them into actionable steps.
👉 Visualize your success in achieving them.
The new week is not another set of days but a fresh opportunity to evolve, learn, and be better. 🌱
✨ Remember, life isn't just about doing. It's about being. 𝗕𝗲 𝗽𝗿𝗲𝘀𝗲𝗻𝘁, 𝗯𝗲 𝗿𝗲𝗳𝗹𝗲𝗰𝘁𝗶𝘃𝗲, 𝗯𝗲 𝗽𝘂𝗿𝗽𝗼𝘀𝗲𝗳𝘂𝗹.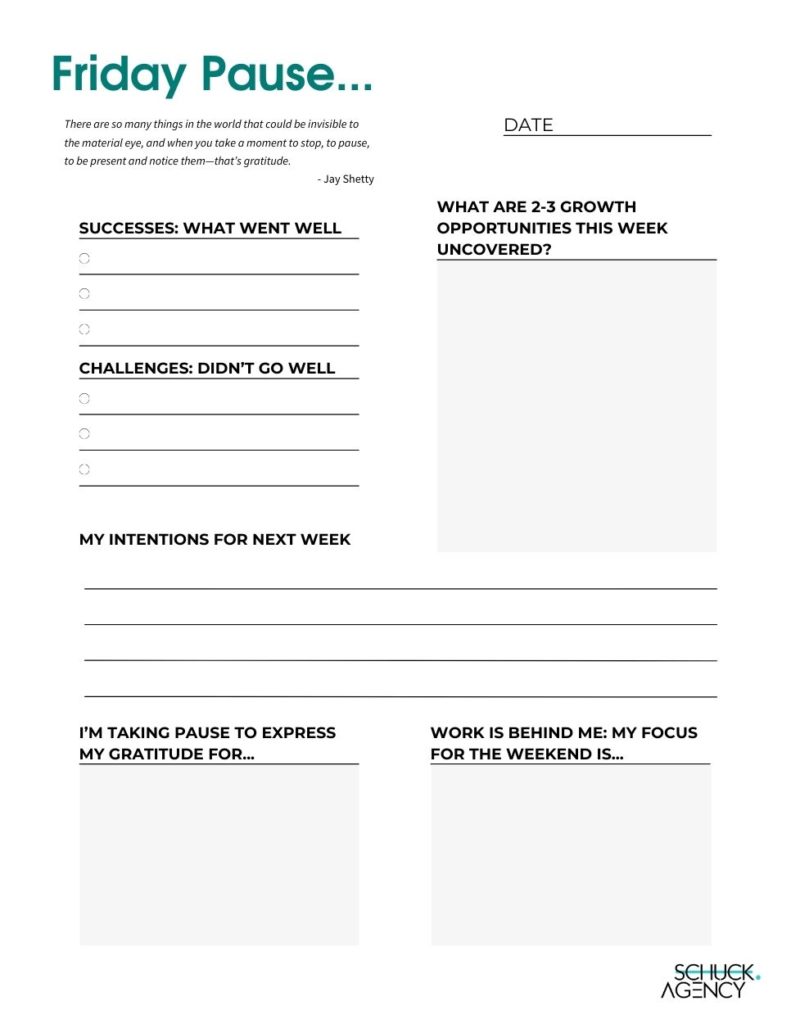 Visited 1 times, 1 visit(s) today